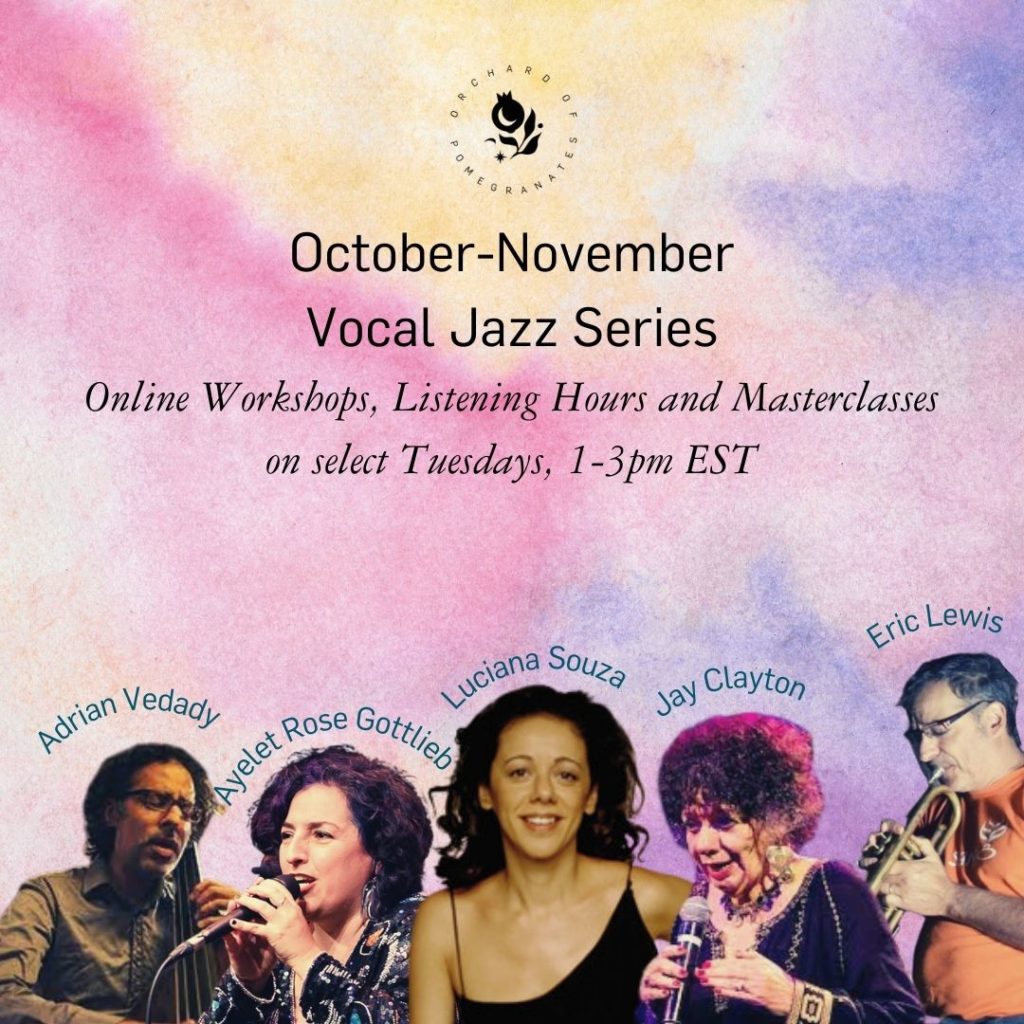 This fall, we are offering four fabulous sessions on select Tuesdays and Thursdays in October and November. We are especially delighted to have Grammy-award winning singer and interpreter Luciana Souza giving a masterclass on Thursday, November 3rd from 12-2 pm. Check out the schedule below to mark the dates on your calendar:
Tuesday, October 17 from 1-3 pm: Anchor Words with Ayelet Rose Gottlieb
3Tuesday, October 24 from 1-3 pm: Listening Party dedicated to the music of Jay Clayton, facilitated by Ayelet Rose – In honour of Jay she nears her 82nd birthday.
Tuesday, October 31 from 1-3 pm: Workshop with Adrian Vedady – "Hear the Harmony from the Bass Up"
Thursday, November 3 from 12-2 pm: Masterclass with Luciana Souza
About our Vocal Jazz Series presenters:
This series will be facilitated by a group of remarkable artists. To start us off on October 17, with Ayelet Rose Gottlieb's "Anchor Words" workshop, which focuses on lyrics interpretation and phrasing.
On October 24, composer, vocalist, multi-disciplinary artist and founder of Orchard of Pomegranates Ayelet Rose Gottlieb will lead a Listening Party in honour of jazz vocalist Jay Clayton, who is approaching her 82nd birthday. Ayelet, a passionate mentor to many songwriters and vocalists, will share Clayton's vocal journey from free jazz to straight-ahead and back.
The third season in this Vocal Jazz Series, on October 31, will be a workshop facilitated by Adrian Vedady, one of Montreal's finest jazz musicians. Vedady will give us insights into how vocalists can create and listen for bass lines in their interpretations. He is known for his beautiful sound, his creativity, his ability to connect with a broad array of musicians and his soulfulness.
The fourth and final session will be on Thursday, November 3 from 12-2 pm and will be a Masterclass with Grammy winner Luciana Souza, one of jazz's leading singers and interpreters. Born in São Paulo, Brazil, Souza's work transcends traditional boundaries around musical styles. Souza has performed and recorded with greats from Herbie Hancock and Paul Simon to James Taylor and Bobby McFerrin. She has been releasing celebrated recordings since 2002, including six Grammy-nominated records. Souza earned a Master's degree in Jazz Studies from the New England Conservatory of Music and taught for four years at Manhattan School of Music. She has twice been named Best Female Jazz Singer by the Jazz Journalists Association, in 2005 and 2013.
Orchard of Pomegranates is a Montréal-based global community for Deep Listening©, Dream-work, improvisation and voice-work. We gather online and in person in order to "practice practice*." Ayelet founded Orchard of Pomegranates in 2019 to create a space that is not goal-oriented, but rather, practice-and-process-focused. It is a safe environment to be vulnerable, and allow for a "beginner's mindset" and playful exploration.
The Patreon platform allows members to join / leave / adjust their membership at any time. Orchard of Pomegranates offers a 10% discount to members who pre-register for a full year.
Add Your Heading Text Here